BHC Ltd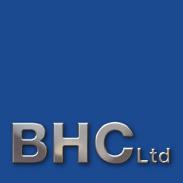 The Company
Since 1992 BHC Ltd. (formerly Brian Hewitt Construction Ltd.) has become one of the leading structural steelwork fabricators and erectors in Scotland and beyond. With continuous expansion and investment, the weekly production capacity has increased from 30 to 600 tonnes. Responding to growing demand, the
original focus on agricultural buildings now includes providing comprehensive structural steelwork services for retail, residential, commercial and industrial construction projects. All produced in a state-of-the-art production facility.
The People
BHC Ltd employs over 280 people, to provide a full-service facility including: Estimating; Design; Detailing; Fabrication; Steel Erection; Netting; Edge Protection; Metal Decking; Stud Welding.
Manufacturing Facilities and Plant
* Located in a recently extended 45 acre site
* Workshop area: 15,445 m²
* 13 number state-of-the-art automated plant including CNC Robotic Plasma, Cutting and Drilling with fibre-optic control, the first twin head plate fittings machine in the UK
* New intumescent paintshop
* StruCad – The World's Leading 3D Structural Steel Detailing System
* All forms of electronic data accepted
Construction Facilities
* In-house erection and metal decking squads
* Edge-protection installation
* Installation of precast planks, stairs and lifts etc.
* Total Build division, providing cladding, doors, concrete slabs etc.

Address:
BHC Ltd
Medwyn Park
Edinburgh Road
Carnwath
South Lanarkshire
Scotland
United Kingdom
ML11 8HS

Telephone:
+44 (0)1555 840006

Fax:
+44 (0)1555 840036

Email:
Brian Hewitt: Managing Director (bhewitt@bhc.ltd.uk)
Brian Cathcart: General Manager bcathcart@bhc.ltd.uk)

Web Address:
www.bhc.ltd.uk