Albion Sections Ltd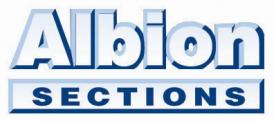 Albion Sections Ltd are a leading manufacturer of Cold Rolled Sections and accessories, supplying products to the meet the ever changing and progressive needs of the steelwork construction industry.
Our continued development and investment program has resulted in:
· Industry standard beating delivery performance of 5-7 working days
· Development of fully dynamic cam data in both x and y axis, allowing flexibility and achieving consistency and accuracy.
· Large comprehensive range of standard Zed Purlin, Cee and Eaves Beam products. We are able to supply proiles up to 400mm deep but also have the capability to provide profiles up to 500mm deep if specified.
· All Zed Purlin, Cee and Eaves Beam products to be S450 from January 2009
· Launch of the Albion Sigma Beam Purlin, which hugely improves strength to weight ratios and reduces the need for accessories in many of the common design criteria's also designed to the new euro codes - again S450 material.
· Software packages for Design, detailing, cam data viewing and quotation solutions.
· Manufacturing facilities also in Lisburn, Northern Ireland.
· Investment in Technical services, providing prompt accurate responses covered by PI insurance.
· Improved marking on section lips, containing both part mark and customer order number.
· Further planned capital expenditure to increase capacity and reduce lead time further
· Sound financial planning and company stability has resulted in the continued growth of both turnover and profit and as such has afforded our continued expansion and business development plans. Your investment in our products and services continues to be sound and we pride ourselves in giving you a peace of mind service with quality products.
We believe Albion Sections Ltd have the right infrastructure, dynamics, enthusiasm and creativity to play its part along with other like minded companies in the continual development and improvement of steel construction industry in the UK.
Mailing Address:
Albion Sections
Albion Road
West Bromwich
West Midlands
B70 8BD
Telephone: 0121 553 1877
Fax: 0121 553 5507
Sales Email: sales@albionsections.co.uk
Production Email: production@albionsections.co.uk
Accounts Email: accounts@albionsections.co.uk
Web: www.albionsections.co.uk