Steelwork Erector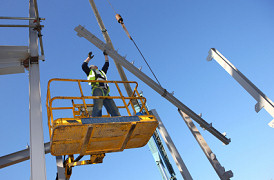 The role of a steelwork erector is a challenging one and a natural ability to work at heights is a must! It can be a very demanding role physically too and numerous and complex tasks have to be carried out at heights often in inclement weather. Safety at all times is paramount and whilst there are obvious dangers to consider, today's health and safety standards have drastically reduced the incidents of on site accidents, making the construction site a controlled and safe environment to work within. Training is given to on site employees on safety procedures and health and safety in general, all to the highest standards.
Being on site, there are many opportunities to attain further skills that may become available to an erector, such as operating plant like cranes, hoists or "cherry pickers". Operating this type of plant requires concentration, awareness and discipline. An erector will need to learn to read construction drawings, general arrangement and erection drawings as well as liaise with the site manager and the fabrication departments back home, such as the drawing office if there is a query on a drawing.
Many erectors take great satisfaction in seeing a barren construction site develop to have a completed steelwork structure erected on time. Maintaining the erection program is critical, as any delays may result in further delays for the following trades and potential costs to the fabricator as a result. A steelwork erector is a much respected role in the steelwork industry and having accumulated a variety of skills, a steelwork erector can progress a career in a variety of roles such as site management or possibly contracts management.