Steelwork Fabricator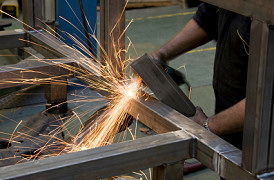 Fabrication workshop employees have become increasingly skilled members of the fabrication business. Today a factory based worker has many opportunities to develop skills and a career in an industry that uses some of the most modern automated machinery in manufacturing today. An increasing number of fabrication businesses around the world are investing in the latest CNC (Computer Numerically Controlled) machinery giving factory works increased potential for career development.
CNC machinery includes saw and drill lines, punching machines etc. that are supplied with CAM (Computer Aided Manufacture)data from the drawing office 3D models to automate the manufacturing process. The factory employee will need to read detailed fabrication drawings in conjunction with using the workshop machinery and ensure steelwork is made exactly to the drawings and specifications. Any errors made in this relatively controlled environment can prove costly in the more uncontrolled environment on site, where modifications to steelwork can prove very expensive! Therefore attention to detail is a must for any fabricator.
Duties are wide and varied in modern workshops for the fabricator. Steel components are brought into the workshop from the stockyard, are cut and drilled, parts welded on to the members, sent to any specialised area and then checked against the drawings, usually by the workshop foreman. The completed component or assembly is then passed into the spray bay for painting before being shipped to site for erection.
Modern software and technology has both increased the career potential and added variety to a workshop employee. Having developed the ability to read drawings, understand construction components and program CNC machinery, today's modern workshop employee can move into other opportunities within the organization such as the drawing office, where his practical knowledge of steelwork fabrication will prove a great asset.