Structural Designer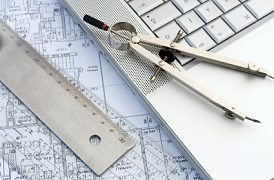 A Structural Designer within a steelwork fabricator plays a vital part in any project. A designer is ultimately responsible for the structural integrity and safety of the structure and as such this is a disciplined role. The designer will often be involved at the estimating stage, particularly if the project is "design and build" and will play a key part in determining the structures costs by virtue of economic design. A designer can save costs in the drawing office, in fabrication and on site erection by offering sensible and practical solutions to all the disciplines involved. The designer will also often liaise directly with the contracts manager and site team by helping them sequence the safe order of erection which in turn will determine the correct order of steelwork that needs to be delivered to site.
Working in the steelwork industry, most designers will become very specialised, as they will be involved in the frame design and connection design of a wide variety of structures, from very simple "beam and stick" buildings to sophisticated and highly complex structures such as stadia, shopping malls etc. and in doing so most designers will use state of the art 3D analysis and design software from a wide variety of software suppliers.
The designer will have communication with the architect, consulting engineer and main contractor as well as most of the departments within the fabricator. There continues to be a great shortage of structural steelwork designers and as such the career opportunities and career development are truly excellent in this role. Senior designers very often aspire to senior management positions within a fabricator in recognition of their high engineering skills, technical ability and practical sense.